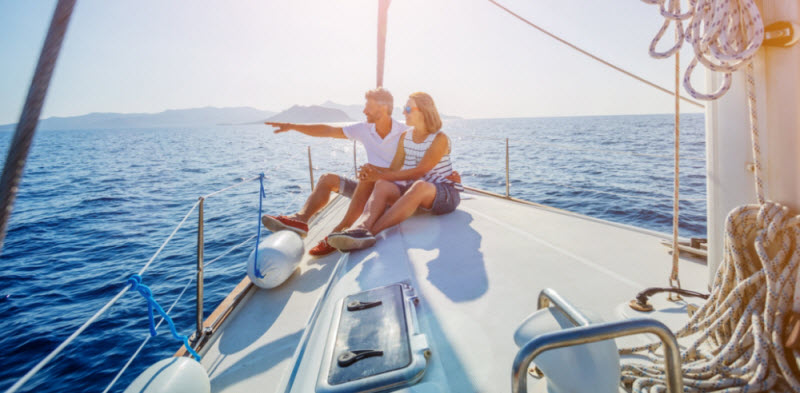 At SMART Boating, we're all about making boating simple. And smart too, of course!
While nothing truly replaces your boat's on-board features and expertise, there is a bevy of useful boating apps to give you a helping hand when you're enjoying your time out on the water.
So, we've put together a top four list of boating apps for better boating. Read on to find out how they can help you.
Free to install with in-app purchases. Available on iPhone and Android.
Along with the Australian Bureau of Meteorology's (BOM) official forecasts and weather warnings for your applicable area(s), Windy App is a great tool to have in your boating arsenal.
The app provides an excellent visual presentation of developing weather patterns and hourly updates on the full spectrum of weather factors including wind, waves, rain, currents and more. You can even check on conditions 10 days ahead of setting out. Giving you two weather models, using Windy App in conjunction with BOM will give you a clearer picture of the forecast ahead, helping for better planning. But, as David Grice says, "There is no substitute for keeping an eye on the sky."
Free. Available on iPhone and Android.
Helping you to stay safe on NSW waters, MarineRescue is the only app that directly connects you to Marine Rescue NSW. If you encounter any issues while out on your boat, you can log in and be assured that 3,000 trained and equipped search and rescue experts are watching out for you. All you have to do is log your trip before you set sail.
MarineRescue also offers an extra live tracking option. Automatically updating your position every half hour, it helps Marine Rescue NSW track your whereabouts and keep tabs on your journey.
Features include:
Local tide, weather and sea conditions
Your latitude/longitude position coordinates
A safety checklist for before you head out
Emergency call procedures
Information on Marine Rescue NSW
Info on popular fishing spots
Free to install/trial with yearly paid subscription. Available on iPhone and Android.
The Boating Marine and Lakes app gives you a variety of nautical charts and other useful features to help you when you're out on the water while cruising, sailing, diving, fishing and everything in between. The app gives you the same detailed marine charts as you would find on some of the most advanced GPS plotters.
Great to use as a backup option, Boating Marine & Lakes covers Australia and most of the globe.
Paid features include:
Comprehensive nautical charts
SONARCHART™
A community including ACTIVECAPTAIN™
Dock-to-dock autorouting
Advanced weather and map options
Plotter sync
Free to install with in-app purchases. Available on iPhone and Android.
Anchor Alarm is a great way to boost your peace of mind when you drop anchor or even if you're just on a mooring. Simply set an alarm to receive alerts when/if your boat drifts or drags outside of the radius you have set from your anchor dropping point and you're done.
While this app is best used in conjunction with your boat's onboard GPS/Chart Plotter, being able to take Anchor Alarm to your bunk via your phone and/or tablet gives you the added comfort and security of being able to actually hear the alarm when it sounds.